To skip your next upcoming order there are two methods you may use. If you are currently on your first order with us, follow Method 1 listed below. Otherwise follow Method 2 listed further below.
Method 1 (For Customers who have only received 1 order)
Login to your Kabo account

here

Select the "Your Plans" tab at the top of the page

View the "Next Delivery" section

There you will see two links to click to skip your next order: "Skip until [DATE]" and "Skip your next box" <--

Click either link to skip your next order
A second confirmation window will pop up to let you know the next delivery date you will be in queue for and there you can finalize your skipped order by clicking "Yes, please skip"


Also make sure to check that you got an email confirmation letting you know which order date has been skipped and when your next shipment is scheduled for. It should look something like this:

"Your ______ shipment has been skipped. Your next order is queued for _____, you will get an email before hand in case you need to make any more changes."



Your changes will be processed and should be updated in your account page under the "Next Delivery" section confirming the order has been skipped

.
Method 2 (For Customers who have received more than 2 orders)
Login to your Kabo account here

Once you are logged in select "Your Plans" at the top navigation bar and scroll down to your dog/s "Delivery Frequency" under the "Your Plans" section.

Under the "Next delivery date" heading you may select one of the three available dates to receive your next order


For example if you were going on vacation from November 17th - November 26th, you could select your next delivery date to be December 2nd so that you wouldn't receive your upcoming February 18th delivery

Once you have made your selections you will see the order cycle for which your changes will be applied. Click "Save changes" to apply the changes.

You will get a second confirmation notice about your change and when it will take into effect.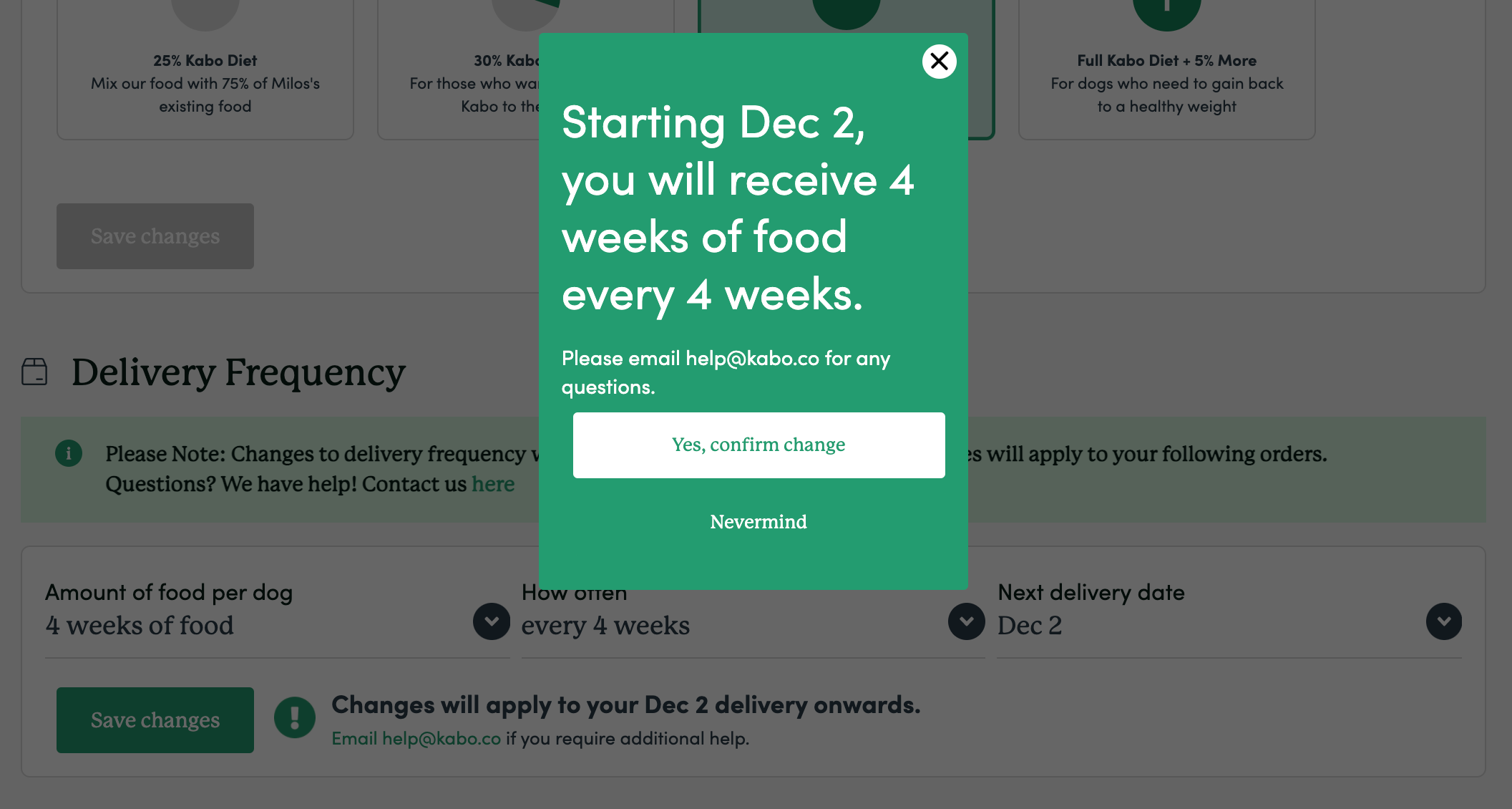 If you are making changes after your cutoff date the changes will only apply after your upcoming shipment. We cannot skip any orders after the cutoff date as we have already started on your next order.
If you want to skip more than one shipment, email us at help@kabo.co and the Kabo Care Team will be able to help.