Please note:
Due to our current system's limitations if you're looking to cancel/pause your subscription on your own through your Kabo Account, you will definitely be able to do it on your own after your 2nd order has been received!
If you haven't received your second order yet you can just reach out to our Kabo Care Team at help@kabo.co to assist you : ).
If you need to pause your Kabo plan for any reason you can do so by first logging into your Kabo account.
Once you're logged in, Click on "Your Account"

Scroll down to the "Manage Your Subscription" subheading and click the green

"Manage your Subscription"

If you've scrolled down and see

"Contact Support"

instead this is because you've only received 1 delivery from us and the feature gets "unlocked" after you've received your 2nd delivery.

Our Care Team will be able to help you cancel/pause your subscription if you reach out to them through help@kabo.co
You will then be taken to a page that looks like the one below and you can let us know why you'd like to cancel/pause:
1. I just need to make changes for one of my dogs
2. I just need to pause it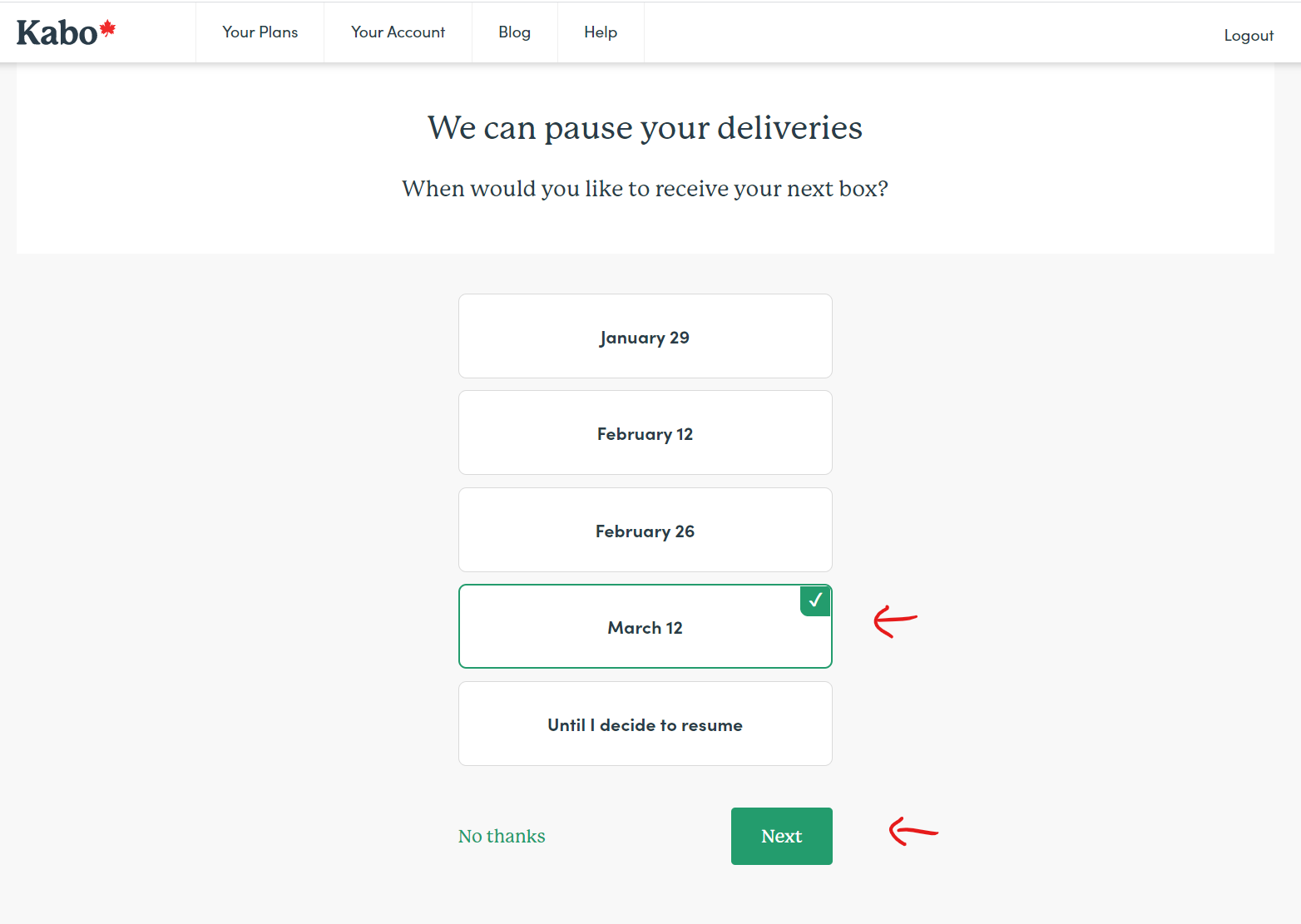 3. Deliveries are too frequent - You can change the frequency of your delivery to every 4, 8, 12 or 26 weeks! Please note when the changes will apply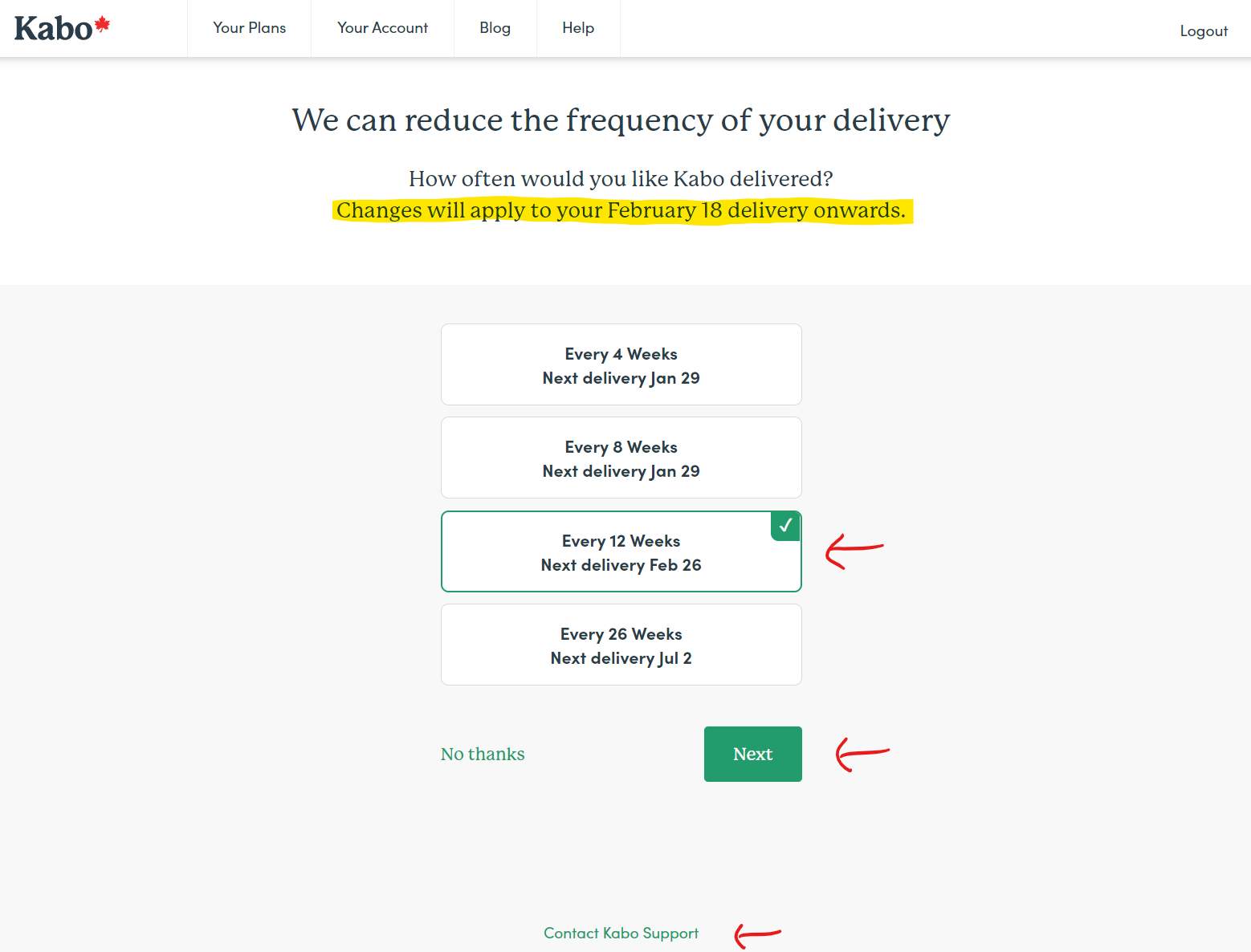 4. I'm getting too much food - You're able to change the amount of food you're currently receiving if you feel it is too much for your pup!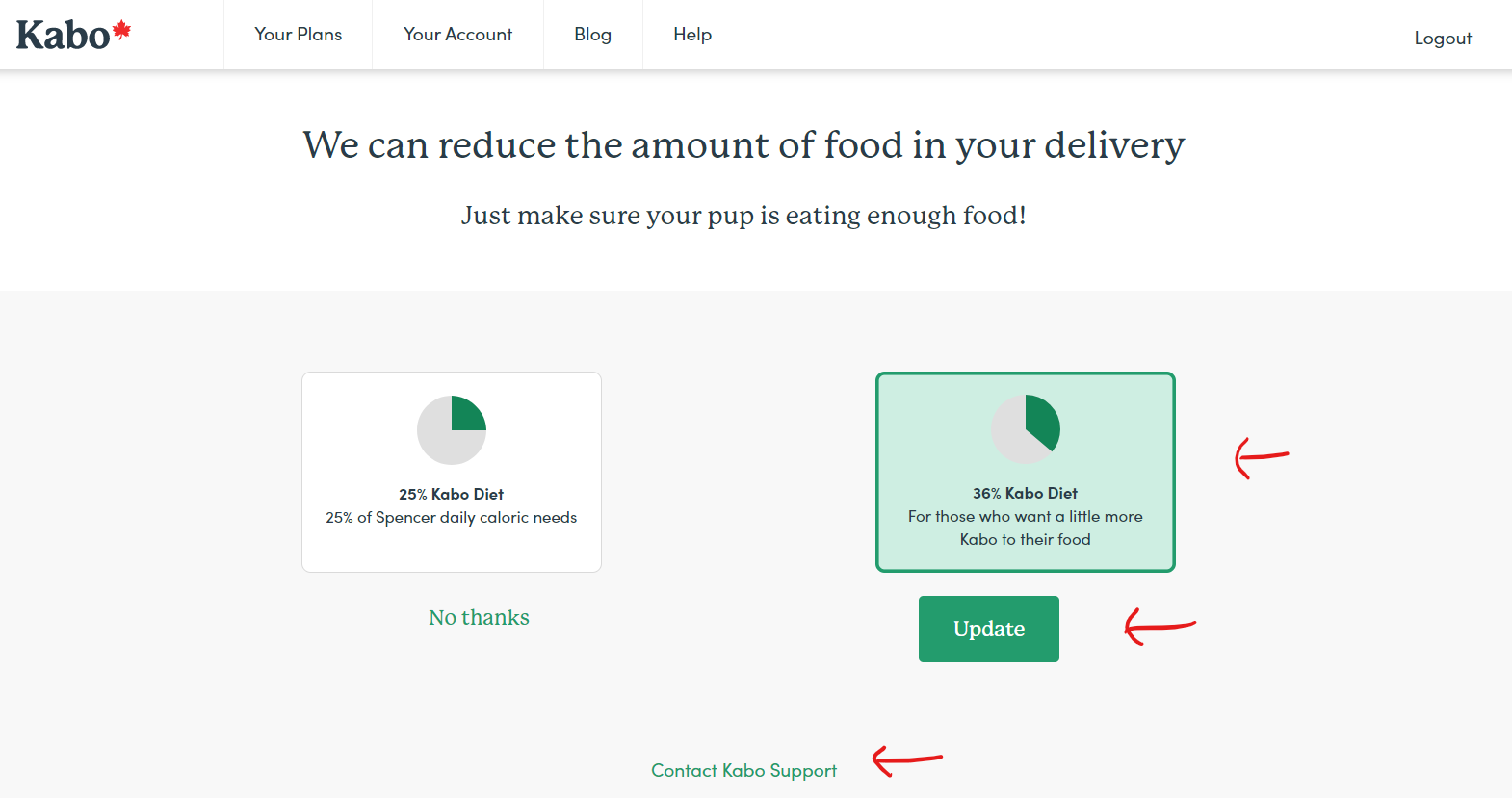 5. Picky Eater - If your pup is a picky eater no worries, please provide us with some info and reach out to our support team and we'd love to be able to help with suggestions or recommendations!
6. Other - any feedback from our customers is greatly appreciated, please feel free to let us know any particular reasons for cancelling/pausing your account.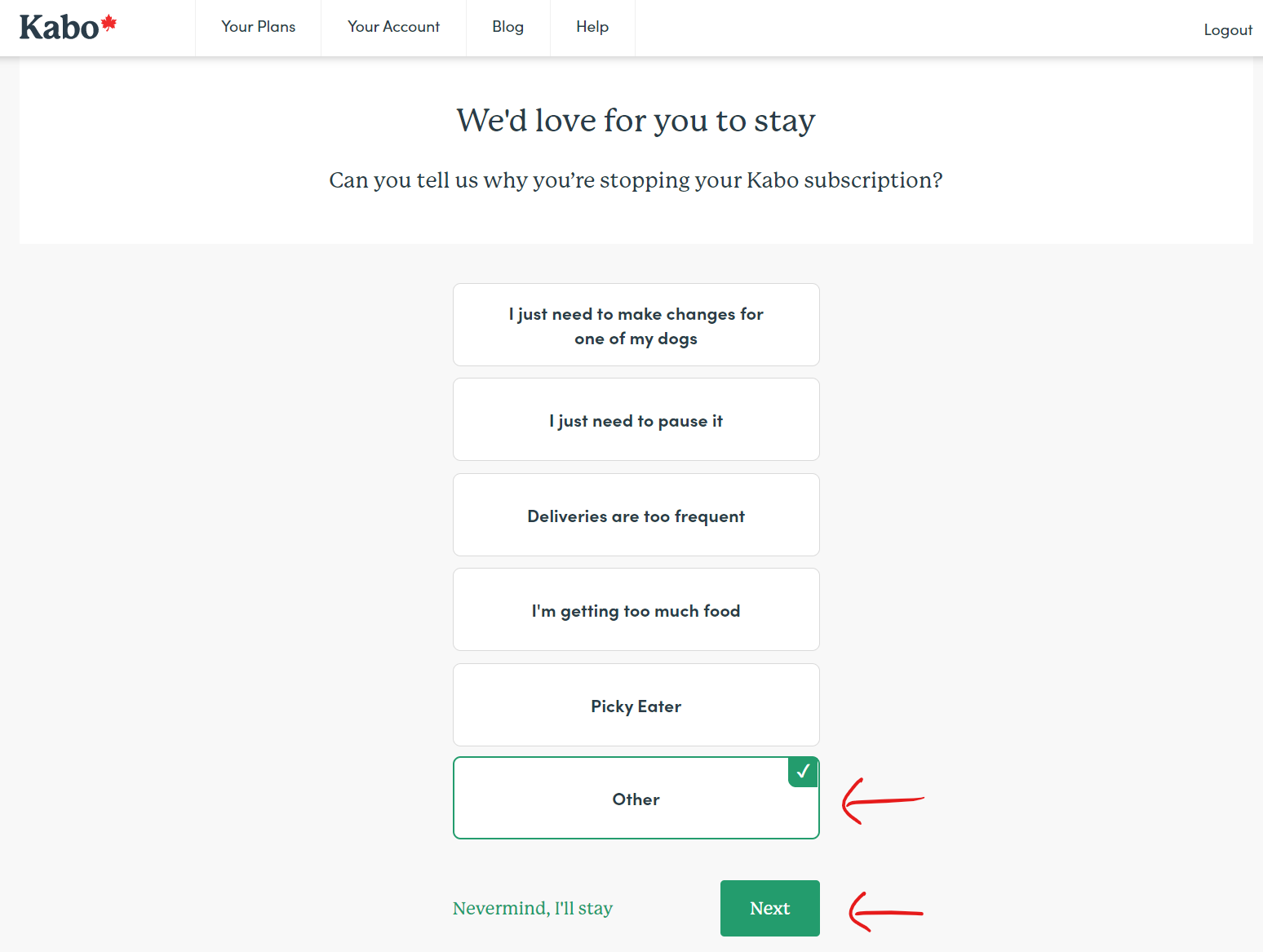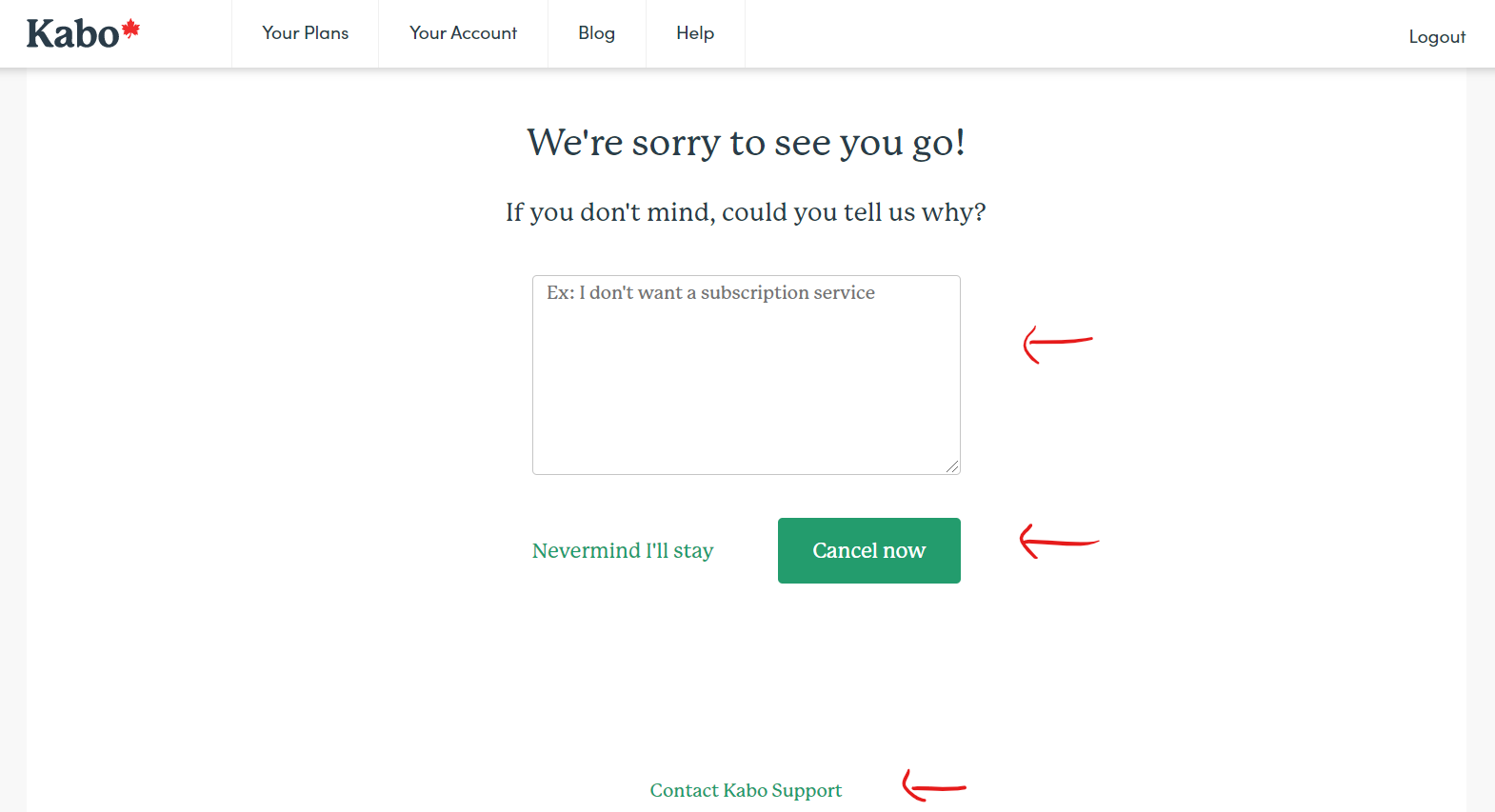 If you need to pause your Kabo plan for any other reasons, please email help@kabo.co where our Pet Health Expert team will be pleased to assist.
Make sure to use the email address you signed up with to make your Kabo purchase to send your email

Enter help@kabo.co as the contact (not .com or .ca)

In the message portion, simply write that you would like to pause your account, for what period of time and the reason why


Someone will reply in 24-48 hours to follow up on next steps and confirm that your account has been paused.
Remember that any requests after the cut off date can't be made to current orders and will be applied to your next order (click here to learn about important dates).