Has your pup had a birthday? Or have they reached an important milestone in their puppyhood?
Maybe they've reached a step in their weight loss goal?
Whatever the reason, I'm here to help guide you through making changes to your pup's profile! :)
The first step is to log in to your account page using the email address and password you set up when you made your first purchase.
If you forgot your password? No worries, it happens! Click "Forgot your password?" to reset your login information. Make sure you check the correct email address you signed up with.
Once you're logged in, make sure you are on the "Your Plans" tab of your account page. On the main body of the page, you'll see a green "Edit your dog's Profile" area. Click here!
After you've clicked this button you'll be taken to your dog's profile where you can make all kinds of changes to their age, weight, body condition, and activity level.
Let's just say Spencer was only 3 months old and 8lbs when he first signed up, and now he is turning 4 months and has gained 8lbs.
We need to make 2 changes in his profile.

First, let's change his age. We can select 4 months from the drop down menu, or you can type in "4 months".
Now, let's update his weight by typing in "16" and making sure "lbs" is selected/highlighted in green.

You can select "kg" as well, just make sure they are the correct units for the value you are inputting.
You can also update Spencer's body condition and activity level here by selecting the appropriate image to match his current status.

Spencer is still "just right" and "somewhat active" so no further changes were made and I can now save these changes by clicking "Next".
You'll now be taken to a page showing you the difference between Spencer's old profile information and updated information.

This page will also show you if, with the new information, your pup will require a change to their plan based on the portion plan you have selected.
You'll see the cost of this new plan and you can choose to save this change and confirm the new plan.
Or you can save the change to your pup's profile information but not accept the change in the plan.
If you choose not to accept the new changes, your cost will remain the same and you will see that the profile has updated with the following message:
Or if you confirm these changes and the new cost of your plan, the above message will not be present on your screen, as below: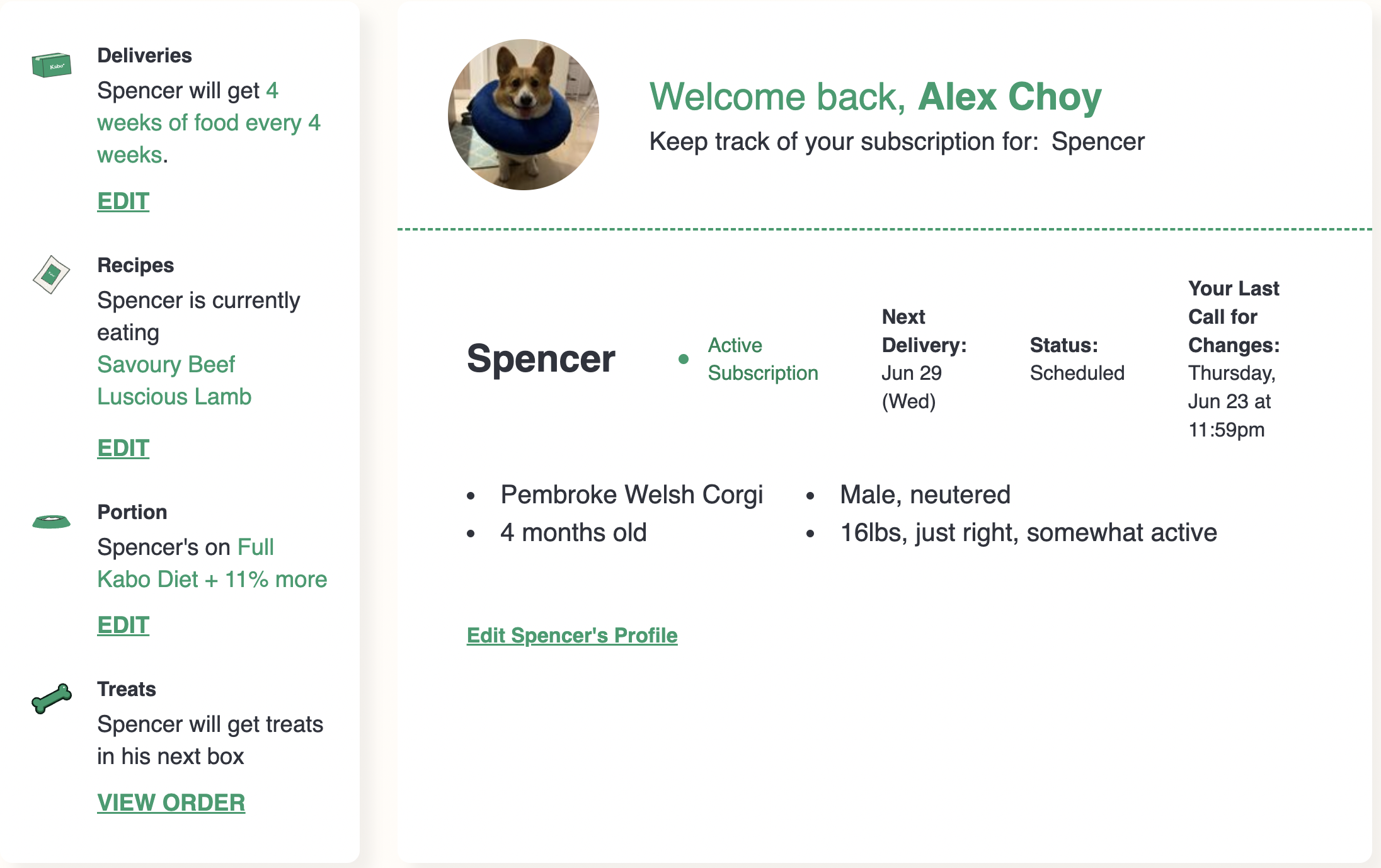 The cost of your plan will not always change if you are updating your pup's information.
Because we calculate how many calories your pup requires based on their profile information, only if there are significant changes to your pup's weight, or they reach an important milestone in their puppyhood, will their caloric requirements change and hence their meal plan!
If you are hoping for your pup to lose weight, please reach out to us to help design a weight loss plan for your pup!
I hope this has helped.
If you need any further clarification, please feel free to reach us at help@kabo.co