Congrats on starting your journey with Kabo, we couldn't be more ecstatic for you to be on board. Whether or not you are new to fresh dog food, we are here to help you on every part of this journey with your pup. As a result, we have created this article to aid your first order experience.
Pre-Purchase
To start, go to https://account.kabo.co/signup/step_1
Enter in your doggo's name, then click "Next"
Enter your doggo's breed, then click "Next"
Enter their age, then click "Next"
Enter your pup's gender and whether or not they are neutered/spayed, then click "Next"
Lastly enter their weight, body type, and activity level, then click "Next"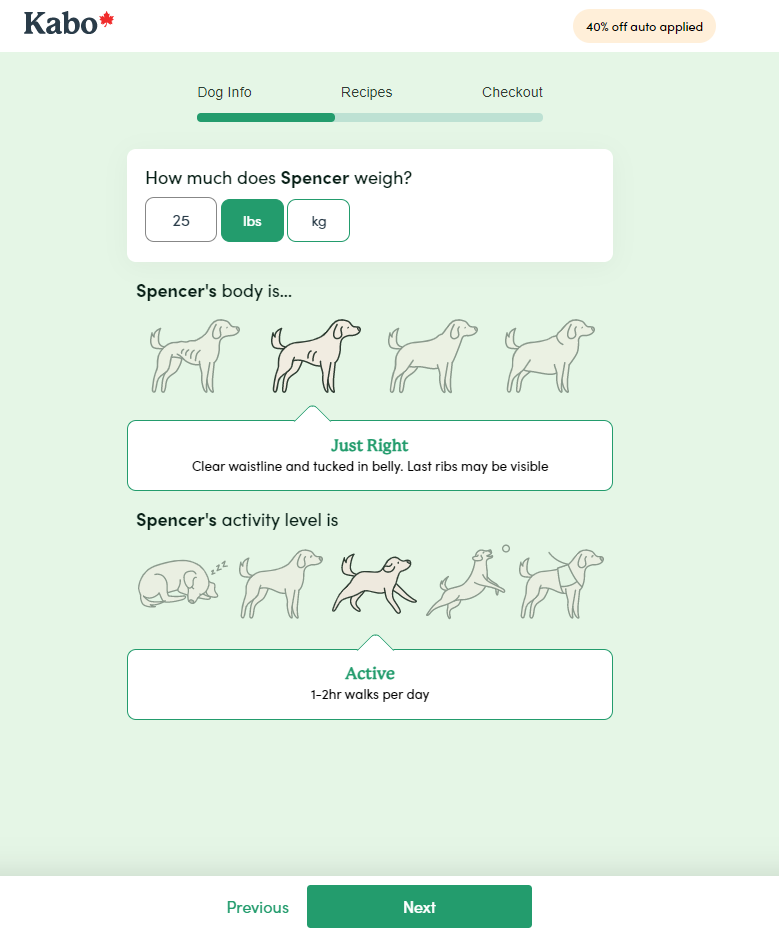 Please Note: If you are signing up a puppy, you'll need to keep our Care Team up to date on your puppy's growth! Just email help@kabo.co anytime : )
Select a recipe (Chicken, Beef, Turkey, Lamb or a Fresh Kibble) from the (slobber worthy) options, then click "Next"
You are able to choose a combination of up to two options in one order
ie. You can do:
2 fresh cooked recipes
1 fresh cooked + 1 fresh kibble recipe
1 fresh cooked recipe
1 fresh kibble recipe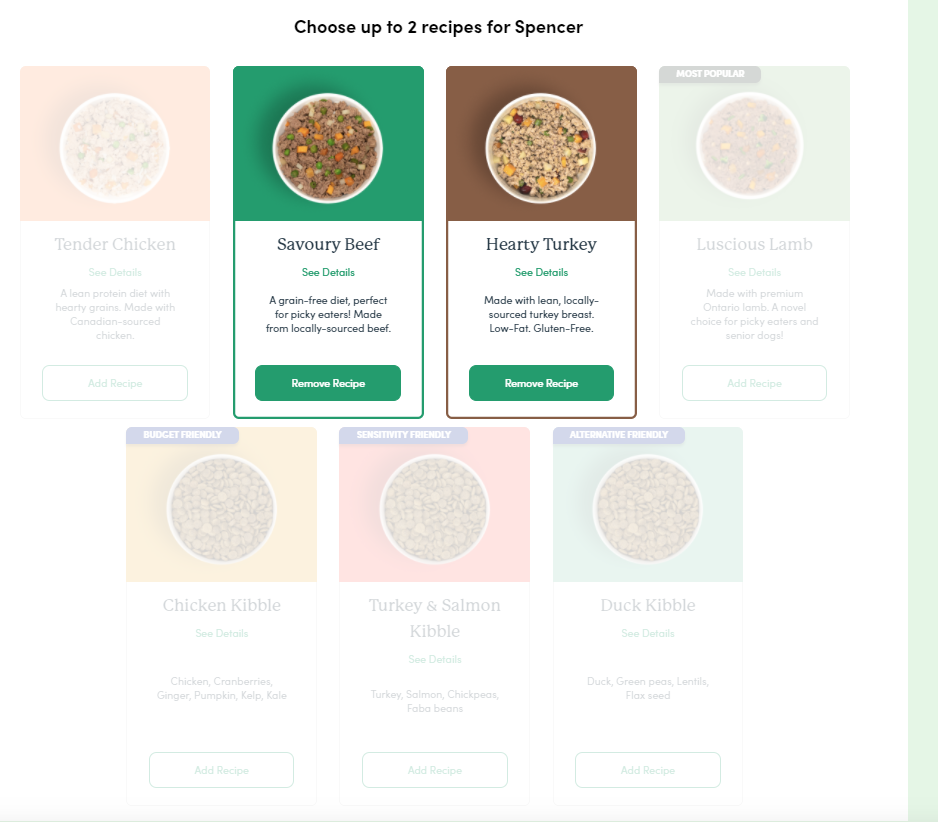 If choosing ONLY Fresh Kibble, you may select one of three options: Chicken, Turkey & Salmon, or Duck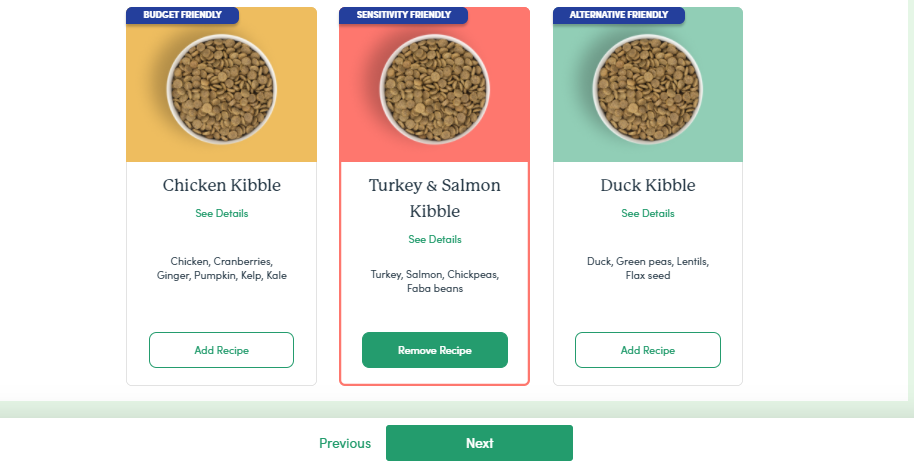 If you chose Fresh Cooked only: Select whether you want a 25% or 50% portion to mix in with current food or a 100% portion to provide a complete meal!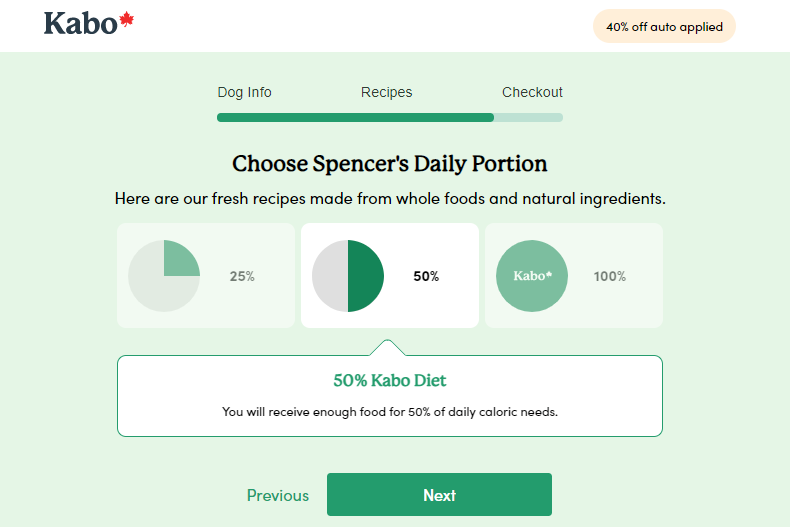 If you chose Fresh Cooked + Fresh Kibble: Select whether you want 25% Fresh Cooked + 75% Fresh Kibble or 50% Fresh Cooked + 50% Fresh Kibble.
Fill out the Create an Account, Shipping Information, and Billing sections with the appropriate information
Make sure to fill out the special delivery instructions with any important details that will guarantee delivery success. Without clear info it may be very difficult to receive your order
Pay close attention to your delivery date to know when your order is expected to arrive
Awaiting Order
While we are preparing your first order, we will send you emails regularly with regard to your meal preparation, account page features and much more.
To ensure that you don't miss any of this content, check your email after you sign up to see if you received the order confirmation email as shown below.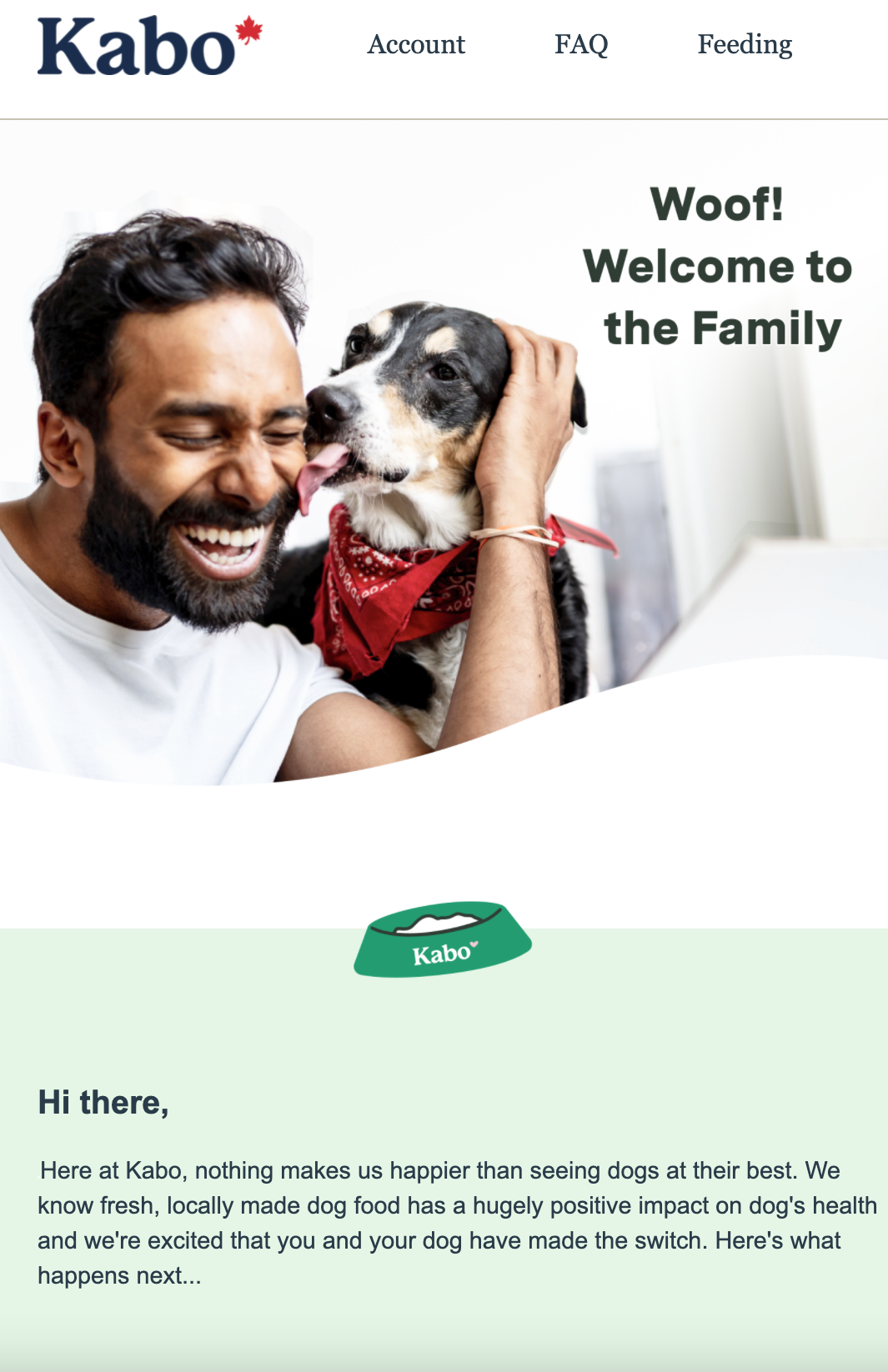 You will then receive an email which provides your expected shipping date
If you want a sneak peak into your order, you can click here to view an unboxing video by one of our customers!
Also feel free to login to your account page here to explore all of your account features.
You may also check out our help centre here to see frequently asked questions
Note: Please make sure you have dog food to sustain your doggo until their delivery date
Receiving My Order:
Using the tracking email we send for each order week (shown below) you can see when your order is expected to arrive.
While we aim to get all orders to you by 8:00 pm on your delivery day, circumstances with our delivery partners are sometimes out of our control. If your order does not arrive on time, please send an email to help@kabo.co so that we can look into your order and locate it or send you a new package. However, we have tested our package so that they can be left outside for 48 hours without spoiling (so long as the food remains below 4 degrees Celsius).
When you receive your box please make sure you receive the proper contents, it should contain a feeding guide and a handy clip for your food. Also, count the individual packages to ensure you've received the proper amount of food. Below are photos of how the box should look when it arrives: