In order to offer the lowest dog-gone price possible and source the highest quality local ingredients for your pup's Kabo meals, we follow a set weekly schedule.
This allows us to ensure we are ordering the exact ingredients which helps us also reduce our waste! It's a Kabo thing.
1. Cut off Date Reminder & Making Changes
After your first order is delivered, you should keep an eye out for this reminder email that you'd receive the following Wednesday! This is our cut off email letting you know that any changes you'd like to make to your next order are due by Thursday, end of day:
Example: If your first order was delivered on Thursday, November 5th you would have until Thursday November 11th to make any changes within your account page for that November 5th order.

You would also receive the above email sent on Wednesday November 10th to remind you to make any changes before cut off!
Please make sure that you are checking the correct email address you signed up with and that our emails are not going to your spam folder/promotion folder.
In the email you will get a confirmation on your following order including:
Shipping address
Price
Order/Plan
If you need to make any changes you can login to your account page and make those changes before the cut off on Thursday by midnight EST!
Click here to read how to make changes to your recipe, skip your next order or change your delivery amount/frequency.
2. Payment Dates
After your first order (woof!), subsequent orders will be billed on the Friday 1 week before your scheduled delivery date.
If you are late on a payment or your payment method has expired, email us at help@kabo.co so we can make sure we ship your order while we await updated payment information. We're helpful that way : ).
Example: If your first order was scheduled to be delivered Friday November 5th, your cut off date for any changes to your next order is due by Thursday November 11th.
Then your billing date for your second order would be on Friday November 12th and the delivery would be Friday November 19th!
3. Delivery Dates
We deliver in weekly cycles/intervals and deliver deliciousness on Thursdays or Fridays depending on your region:
Thursday Delivery Date
- Ontario (outside GTA)
- Quebec
- Most of British Columbia
- Alberta
Friday Delivery Date
- Some of Manitoba
- Some of British Columbia
- Ontario (GTA)
- Some of Nova Scotia
You will also get an email during your delivery week confirming which day your order will arrive:
Then on your delivery date we will send a confirmation email that your order has been shipped as seen below:
And you will get your tracking information sent shortly after with your shipping carrier details and tracking number: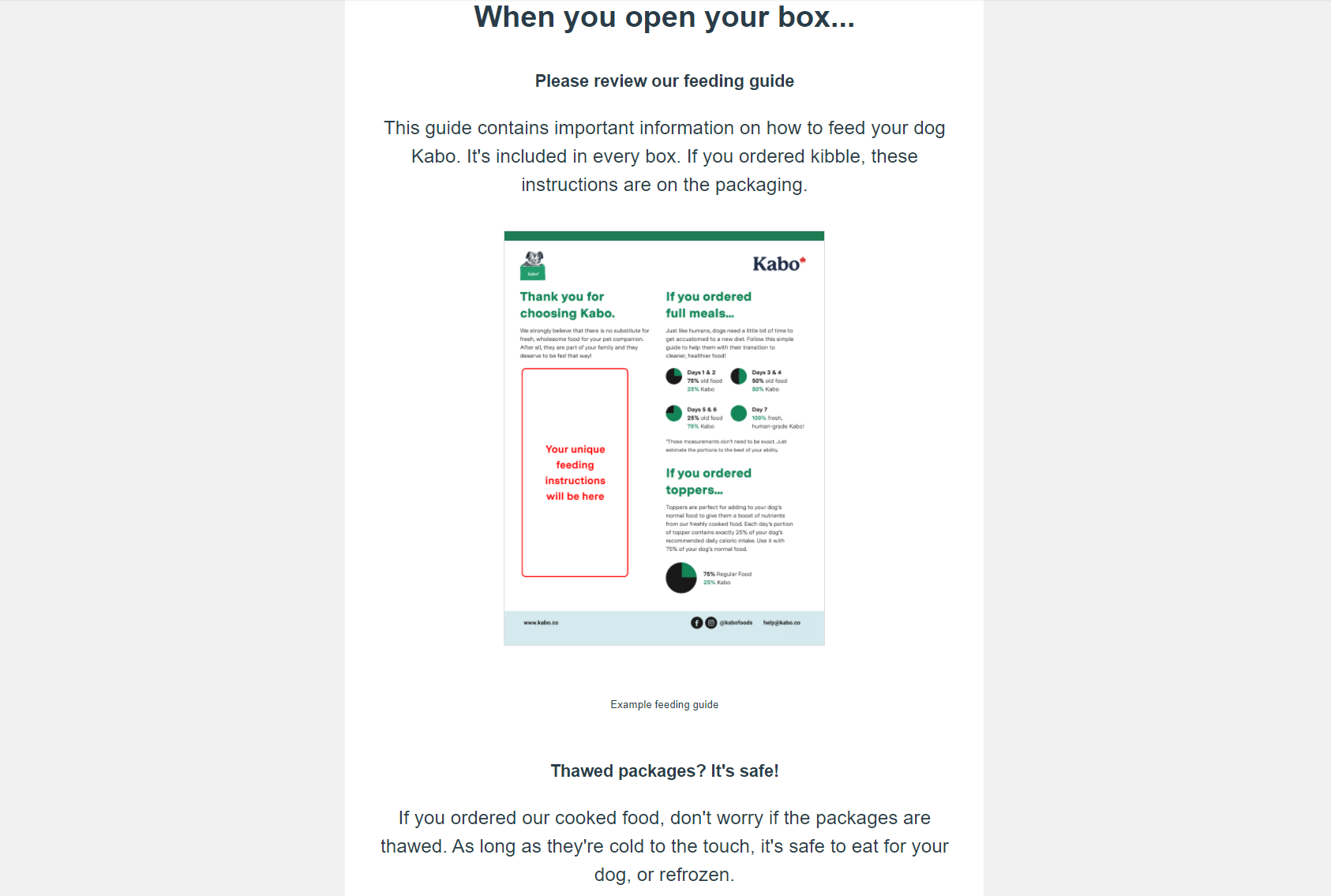 Note: Since we currently ship using services like, FedEx and Purolator there may be potential delays to your deliveries. But not to worry! We make sure to insulate your package to stay safe for over 48 hours from your delivery date. As well there might be delays due to unforeseen/uncontrollable circumstances (such as weather or sabotage by evil cats).
If there are any issues of this nature just email us at help@kabo.co and the five-star worth Kabo Care Team will be happy to help.
*Please refer to this as a guide and use your account page or our email correspondence for exact delivery dates. If you need assistance just email us at help@kabo.co